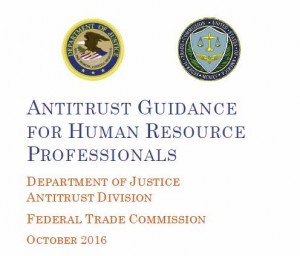 Now human resources professionals are officially guided by Justice to refrain from certain acts when competing for talent.  October 2016 Guidance provides pointers which include employer agreements:
Not to recruit certain employees;
Not to compete in terms of compensation;
Boycotting temporary employees;
Fees and terms of compensation for contractors.
Guidance cites enforcement actions on entities that came under its radar, including: Arizona Hospital & Healthcare Association, eBay, Intuit, Lucasfilm and Pizar, Adobe, Apple, Google, Intel, Intuit, Debes, Council of Fashion Designers of America.  According to Justice, these entities entered into agreements that violate Sherman Antitrust Act.  The guidance does not stop at "agreements", but goes further to proscribe "sharing sensitive information."
Even if an individual does not agree explicitly to fix compensation or other terms of employment, exchanging competitively sensitive information could serve as evidence of an implicit illegal agreement.