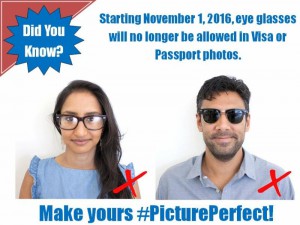 Modern trend for eyewear has been heavier and heavier glasses.  Heavy glasses affect one's appearance, probably in a better way, and therefore make it more difficult for officials to recognize one's original features.  In response, U.S. State Department decided to make its own fashion statement:  No Glasses on the Passport Photos Beginning November 1, 2016!
Beginning November 1st, 2016, customers applying for their U.S. passport or U.S visa or renewing their U.S. passport must remove glasses for their photo.
Last year, more than 200,000 U.S. passport customers submitted poor quality photos which we couldn't accept. The #1 problem was glasses. We had to put their passport applications on hold because we couldn't clearly identify them from their photo.  Many U.S. visa applications have been delayed due to the same problem.

If the photo of you in your unexpired U.S. passport or U.S. visa has glasses, don't worry about it. You don't have to get a passport or visa now. Next time you renew your passport or apply for a new visa, though, you'll have to take your glasses off.