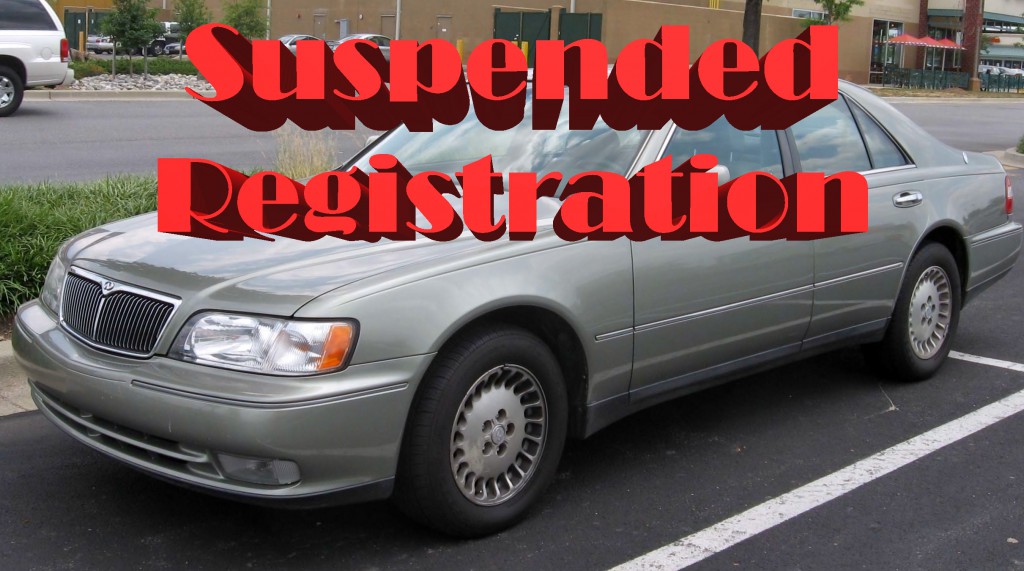 Consider a following hypothetical.  You are in New York.  Your friend or someone you know hands you the keys and asks you to drive giving you any reason (e.g. "I had some drinks").  As a conscientious fellow human being, you take the keys and get behind the wheel.  Then, police pulls you over and issues you an appearance ticket / summons for driving a vehicle for which the registration has been suspended.  You explain the officer that this is not your car and you had no way of knowing (registration sticker on the windshield shows that the status is current).  Officer politely places the appearance ticket in your hands and even more politely asks you to explain this to the judge.  You look at the ticket, you look at the person who gave you the keys, and ask yourself "what is going on"!?  The person who gave you keys just recalls that she did not pay for car insurance in light of current global financial crisis, causing the insurance company to report to DMV, which in turn suspended the registration.  You probably still wonder what is going on.  Well, police officer and the person who asked you to drive a car with suspended registration just invited you to take an interesting journey into the world of Vehicle and Traffic Law and Criminal Procedure Law.
First and foremost, government just charged you with a crime of unclassified misdemeanor carrying maximum penalty for first time offenders of:
Thirty days in jail; and
One hundred ($100) dollars fine.
In addition to the stigma of criminal label, police officer introduced you to an interestingly crafted section 512 of Vehicle and Traffic Law ("VTL"), stating:
Any person who operates any motor vehicle upon a public highway while the certificate of registration of such motor vehicle or privilege of operation of such motor vehicle in this state or privilege of obtaining a certificate of registration issued by the commissioner is suspended or revoked shall be guilty of a misdemeanor * * * (emphasis supplied)
VTL § 512 language seems to suggest that as long as you (1) operate a car and (2) registration is suspended you are liable for offense.  Unlike its neighboring section dealing with suspended license – VTL § 511 – which requires person to know or having reason to know, VTL § 512 has not knowledge or scienter requirement.  As written on its face, VTL § 512 seems like a strict liability statute.  As long as you do the act of driving a motor vehicle with suspended registration, irrespective of knowledge (not mentioned) or ownership ("any person"), VTL § 512 seems to suggest that you are a criminal.  Such rather harsh position has been taken by prosecution in New York courts.  See People v. Dumas, 42 Misc.3d 265 (2013) (The People contend that Vehicle and Traffic Law § 512 is a strict liability statute and defendant's knowledge that the registration was suspended/revoked, or lack thereof, is irrelevant.).  Courts have also been reluctant to explicitly hold that scienter is a required element for VTL § 512 conviction.  Id. (The court does not disagree with the People's contention that Vehicle and Traffic Law § 512 is a strict liability statute.)  Author of this article, also arguing scienter to a judge, received a response from the bench that ignorance of the law is no excuse.  Thus, looking at VTL § 512 statutory language may seems like a dead end depressing acknowledgment of criminality.  But!  Journey is not over!  If one sees a wall in front of her, this does not mean dead end: alternative routes around, above, and even under the wall should be explored.
As a safeguard measure, it is probably a good idea to ask for supporting deposition from the police department.  Police officer may have provided you with appearance ticket without anything else.  This means that the charges are brought by means of "simplified traffic information."  CPL § 100.10(2)(a).  Since "simplified information" includes "simplified traffic information," it makes CPL § 100.25(4) applicable to the prosecution.  CPL § 1.20(5)(a).  CPL § 150.10(2) requires appearance ticket to "contain the language, set forth in subdivision four of section 100.25, notifying the defendant of his right to receive a supporting deposition."  Service of the demand for supporting deposition upon police department is proper because "defendant is entitled as a matter of right to receive a supporting deposition from the complainant police officer."  People v. Quinn, 100 Misc. 2d 582, 419 N.Y.S.2d 811 (Cohoes City Police Ct. 1979) (supporting deposition request was made upon police department).  Request for supporting deposition can be made right away.  Service of the demand for supporting deposition prior to arraignment date is proper because "CPL 100.25 (2) does not force a defendant to wait until arraignment to request a supporting deposition."  People v. Tyler, 1 N.Y.3d 493, 495, 808 N.E.2d 334 (2004).  If the supporting deposition is not timely served upon defendant within thirty (30) days after initial request, court can dismiss the information.  Id. (affirming lower court's order dismissing information for People's failure to serve supporting deposition within 30 days after initial request).  Further, CPL § 100.40(2) renders simplified traffic information insufficient on its face for failure to timely provide supporting deposition.  Facially insufficient instrument is defective pursuant to CPL § 170.35(1)(a), giving court a reason to dismiss simplified traffic information as defective pursuant to People v. Tyler and CPL § 170.30(1)(a).  Facial insufficiency also constitutes jurisdictional defect under People v. Alejandro, 70 N.Y.2d 133, 511 N.E.2d 71 (1987); see also People v. Noblett, 172 Misc. 2d 826, 830, 660 N.Y.S.2d 517 (Co. Ct. 1997) ("[i]t is well settled that '[a] valid and sufficient accusatory instrument is a nonwaivable jurisdictional prerequisite to a criminal prosecution' ").
It is also a good idea to take remedial measures and cure the alleged violation.  Since the vehicle is not under your ownership and control, it may be difficult, because all you can do is ask that a person who gave you the keys to remove the suspension.  This may mean a surrender of license plates (depending on the lapse of time) and re-establishment of insurance policy.  If curing is done, it can provide a court and prosecution with a reason to favorably dispose the case pursuant to CPL § 170.55 – Adjournment in Contemplation of Dismissal ("ACD").  This is discretionary provision done in "furtherance of justice."  It is not always granted. But!  It is very important to ask for ACD.  Remedial measures undertaken to cure the violation, combined with other factors, can be mitigating factors that would predispose the court and prosecution into agreeing to enter into ACD.  If granted, that would mean a "good behavior" for six months, with ultimate dismissal thereafter.  But, if not granted, journey leads to trial preparation.
In addition to pre-trial supporting deposition jurisdictional objections, lessons from People v. Dumas point to scienter objections based on Constitution and Penal Law.  While the Legislature did not expressly include the element of knowledge in the charge of VTL § 512, the element of knowledge is included in the similar charge of VTL § 511, which prohibits the operation of a motor vehicle upon a public highway while knowing or having reason to know that such person's license is suspended or revoked.  People v. Dumas, 42 Misc. 3d 265, 267, 974 N.Y.S.2d 921, 922 (City Ct. 2013).  The safeguards of notice contained in VTL § 511 protect Defendant's Due Process rights under United States (U.S. Const, 14th Amend, § 1) and New York State (NY Const, art I, § 11) Constitutions and must be applicable to VTL § 512.  Id.; see also People v. Walsh, 81 Misc. 2d 757, 367 N.Y.S.2d 168 (Suff. Co. Dist. Ct. 1975) (holding that a denial of due process would occur, if one could be convicted of this crime without proof that the defendant actually was notified of the suspension or revocation).  VTL § 512 is a misdemeanor crime. A statute defining a crime, unless clearly indicating a legislative intent to impose strict liability, should be construed as defining a crime of mental culpability.  N.Y. Penal Law § 15.15(2).  Penal Law § 15.15(2) provision "applies to offenses defined both in and outside this chapter," extending the requirement of the element of culpable mental state to VTL § 512 misdemeanor crimes.  As People v. Dumas noted, scienter issue "may be implicated by the defendant as a trial issue to be considered by the court in determining culpability."
Good luck on your journey!